5 ways to develop your new business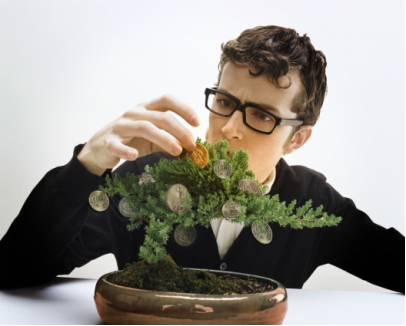 When you first started your business, you were most likely full of ambition, adrenaline and the simple desire to get the thing off the ground. Now the start-up hurdle is over and you're the owner of a fledgling enterprise, the obvious question is: what's next?
Consultant and author Keith McFarland was struck by the wealth of books available about running and developing big businesses and the distinct lack of advice about developing small ones.
In his book The Breakthrough Company: How Everyday Companies Achieve Extraordinary Results he states that '99 percent of the business advice churned out... is written for people working at a giant firm.'
'If you are like most business people, you live a very different life from the ones lived by business celebrities described in the headlines of Business Week and the Wall St Journal.'
He highlights the fact that 'most small companies start small and stay that way', stressing the importance of growth strategies.
In any small business it's vital to consider your future, how you want to grow and in what direction. Here are 5 ways to further develop your business:
<![if !supportLists]> 1. <![endif]> Ad-app-t
In order to develop your business you have to adapt and stay up to date. An increasing number of small businesses are adopting technology in order to innovate from within, gain a wider audience and increase their opportunities.
The most recent marketing trend is the mobile app and mobile optimised websites. In light of Google's new algorithm (dubbed 'Mobilegeddon') and with the latest statistics showing that 60% of browsing is now done on a mobile - it's never been a better time to get web-friendly.
Many companies spend what seems like forever tackling the paper mountain, spending hours on admin when it could be done online in a matter of minutes.
Reports from Intuit (2013) state that in the UK, '82% of small businesses have not adopted anything new in the last 12 months and still spend an average of 11.4 hours per week on administrative tasks which could be more efficiently managed using technology'.
To help you streamline and automate your accounts and avoid time wasting, there are plenty of apps for you to choose from:
Contact management - Focuses on customer relations, the app imports and syncs all contact information to one place (emails, social media posts, contact information) making it easier to search and access.
Post scheduling - Simplifies social media posts, it enables you to schedule when you want your posts to be published, allowing you to see the most popular and tailor your times and content to maximise views.
Real time media monitoring - Searches the internet, sending reports of where and when your business has been mentioned.
Email tracking and analytics - Allows you to see if and when your emails have been opened, enabling you to establish when the best time to send an email is and what is the best content.
<![if !supportLists]> 2. <![endif]> Promote
You might have an amazing product/service but you are unlikely to develop if your potential customers don't know that you exist.
More and more businesses are moving away from traditional methods - due to higher costs, with many taking up residence online and updating their marketing strategy with:
<![if !supportLists]> - <![endif]> Websites (desktop and mobile optimised),
<![if !supportLists]> - <![endif]> Emails, newsletters, subscriptions, promo codes, discounts,
<![if !supportLists]> - <![endif]> Blogs,
<![if !supportLists]> - <![endif]> Social media.
The internet is no longer just an optional extra, it's a necessity and integral to business growth. Those with a strong web presence are able to create a stronger brand awareness.
Perhaps the most popular marketing strategy at the moment is social media, as people seem to spend most of their free time scrolling through Facebook, twitter, Instagram and Pinterest.
Creating publicity through networking, posts and friends' activity, it creates a subtle yet very powerful form of advertising. With a different tone of voice to a traditional advert, these posts read more like a conversation with pals.
Most businesses tend to have more than one audience. In order to grow, you must discover who your customers are and adjust your marketing strategy to cater to all of them.
<![if !supportLists]> 3. <![endif]> Outsource
Small businesses that use external help are more likely grow. With well-connected networks of people, technology and service outsourcing can prove to be a faster and more cost effective option.
The term outsourcing is daunting to many small business owners; with its key associations being in 'big business'.
However, more and more small businesses are adopting this growth strategy and it's having a powerful effect on their growth and productivity levels. Today, almost anything can be outsourced including financial services, marketing and web design. This can not only save money, it saves you from spending your evenings handling things like timesheets and payroll.
Indeed, one of the main problems in small business is owners trying to do everything themselves. Laura Lee Sparks, owner of legal marketing Mavern states in Entrepreneur:
'Most entrepreneurs have great talents but many times they think they can do it all... [it] can really stall the growth of the business. By outsourcing the day to day back-office tasks, the business owner has more time to focus on generating income'.
This growth strategy goes hand in hand with technological developments in business - as people are now able to work from everywhere and anywhere.
Through delegating the workload it saves small businesses money, as they no longer have to pay the overheads (expenses, taxes and payroll).
<![if !supportLists]> 4. <![endif]> Diversify
Diversifying your business is an excellent growth strategy. It can increase revenue streams, even during seasonal slumps and is a great way to boost sales and those all-important profit margins. Diversification options include:
Adapting your product - Tweak your product line-up so that it appeals to a new group of consumers - could you create a new product to draw in a new type of customer? (For example some businesses have a 'professional' product and a lower cost 'hobbyist' product).
Sourcing alternative channels - If you're not online, create a website or consider using an e- commerce platform or marketplace.
Offering complimentary products or services - Are there products/services you could sell that would do well next to your existing offerings? By expanding your market to include these, you will save consumers going to another retailer and increase your revenue at the same time.
Consider moving - If you only have one physical site, consider a second. And if you only sell online, think about buying or renting a premises or a market stall. If you're brave enough, you can always consider moving overseas - or, at least, trading internationally.
<![if !supportLists]> 5. <![endif]> Listen and learn
Finally, and perhaps the most logical answer to developing your business is asking yourself if there are any areas of the business you could improve on.
The first place to start for improvement is your existing customer base. Look at your customer needs, speak to them and get feedback. To identify what areas need improvement, ask questions like:
<![if !supportLists]> - <![endif]> How much do they value the product?
<![if !supportLists]> - <![endif]> What would make them buy more?
<![if !supportLists]> - <![endif]> And what would make it more useful to them?
Making changes based upon this feedback could lead to a good brand reputation, repeat custom and new customers.
To avoid making unpopular changes that could potentially be damaging to your business (if it's possible and financially viable) trial prototype products before you commit.
To take the next steps and develop your business further, there are numerous possibilities and each will depend on the kind of operation you run, and the time, money and resources you have available. Choose your development strategies carefully and you'll be well on the road to success.
By Melanie Luff, staff writer for BusinessesForSale.com, the market-leading directory of business opportunities from Dynamis. Melanie writes for all titles in the Dynamis Stable including PropertySales.com and FranchiseSales.com.